Můžete to nazývat asistencí při dobrodružství, asistencí při tréninku, asistencí při překonávání vzdálenosti, nebo asistencí Vašich zážitků. Nazývejte to jak chcete, faktem ale zůstává, že kola Kona s asistencí při šlapání Vám pomohou se dostat přesně tam, kam potřebujete bez přílišného úsilí. Model Remote 160 je univerzální endurové elektrokolo postavené na platformě modelové řady Process, sníž sdílí především geometrii a výšku zdvihů.
Doporučená MOC: 159.999 Kč
Motor: Shimano E8000 25km/h; Baterie: Shimano 504Wh; Displej: Shimano E8000; Materiál rámu: hliník, 160mm zdvih; Vidlice: RockShox Lyrik Select Charger RC DebonAir 160mm Tapered; Tlumič: RockShox Super Deluxe Select; Pohon: SRAM SX/NX Eagle; Kliky: Shimano Deore; Brzdy: SRAM Centerline 200mm/200mm; Sedlo WTB Volt Pro; Ráfky: WTB KOM Trail i35 TCS; Pláště: Maxxis Minion DHF EXO TR Dual 3C 27.5×2.8″.
SPECIFIKACE
| | |
| --- | --- |
| FRAME MATERIAL | Kona 6061 Aluminum Butted 160mm Travel |
| SIZES | S, M, L, XL |
| REAR SHOCK | RockShox Super Deluxe Select |
| FORK | RockShox Lyrik Select Charger RC DebonAir 160mm Tapered 110 Spacing |
| CRANKARMS | Shimano Deore |
| CHAINRINGS | 34t X-Sync Eagle |
| B/B | n/a |
| PEDALS | n/a |
| CHAIN | SRAM SX-Eagle |
| FREEWHEEL | SRAM NX-Eagle 11-50t 12spd |
| CHAINGUIDE | n/a |
| F/D | n/a |
| R/D | SRAM GX |
| SHIFTERS | SRAM NX Single Click |
| BRAKE CALIPERS | SRAM Code R |
| FRONT BRAKE ROTOR | SRAM Centerline 200mm |
| REAR BRAKE ROTOR | SRAM Centerline 200mm |
| BRAKE LEVERS | SRAM Code R |
| HEADSET | FSA No.57E |
| HANDLEBAR | Kona XC/BC 35 |
| STEM | Kona XC/BC 35 |
| SEATPOST | Trans-X Dropper Internal 31.6mm |
| SEAT CLAMP | Kona Clamp |
| GRIPS | Kona Key Grip |
| SADDLE | WTB Volt Pro |
| FRONT HUB | Formula 110x15mm |
| REAR HUB | Formula 157x12mm |
| SPOKES | Stainless Black 14g |
| RIMS | WTB KOM Trail i35 TCS |
| FRONT TIRE | Maxxis Minion DHF EXO+ TR DUAL 27.5×2.8″ |
| REAR TIRE | Maxxis Minion DHR II EXO+ TR DUAL 27.5×2.8″ |
| DRIVE UNIT | Shimano E8000 20MPH |
| BATTERY | Shimano 504Wh |
| DISPLAY | Shimano E8000 Cycle Computer |
| CHARGER | Shimano STEPS |
| BATTERY LOCK | n/a |
| PAINT COLOR | Gloss Seafoam w/ Crimson, Indigo & Dark Seafoam |
GEOMETRIE (mm)
| | | | | | |
| --- | --- | --- | --- | --- | --- |
| | SIZE | S | M | L | XL |
| 1 | ST LENGTH | 385 | 410 | 450 | 485 |
| 2 | TT LENGTH | 579 | 606 | 635 | 674 |
| 3 | REACH | 425 | 450 | 475 | 510 |
| 4 | STACK | 615 | 620 | 629 | 638 |
| 5 | STANDOVER | 743 | 759 | 755 | 770 |
| 6 | HT ANGLE | 65.0 | 65.0 | 65.0 | 65.0 |
| 7 | HT LENGTH | 115 | 120 | 130 | 140 |
| 8 | ST ANGLE | 75.9 | 75.9 | 75.7 | 75.6 |
| 9 | CS LENGTH | 435 | 435 | 435 | 435 |
| 10 | BB DROP | 15 | 15 | 15 | 15 |
| 11 | BB HEIGHT | 345 | 345 | 345 | 345 |
| 12 | WHEELBASE | 1196 | 1223 | 1252 | 1291 |
| 13 | FRONT CENTER | 761 | 778 | 818 | 857 |
| 14 | FORK LENGTH | 571 | 571 | 571 | 571 |
| 15 | FORK OFFSET | 51 | 51 | 51 | 51 |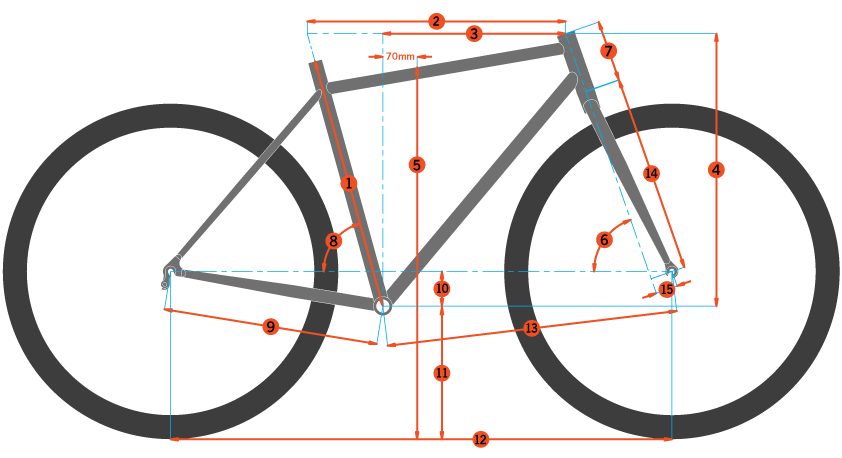 VELIKOSTNÍ TABULKA MTB/ALL MOUNTAIN/GRAVITY
| HEIGHT/INCHES | HEIGHT/METRIC | INSEAM/INCHES | INSEAM/METRIC | SPLICE | MTB/XC TRAIL/FAT | ALL MOUNTAIN/ENDURO | GRAVITY/DH |
| --- | --- | --- | --- | --- | --- | --- | --- |
| 4'10"-5'1″ | 147-155 cm | 24"-27" | 61-69 cm | Small | XS | XS | N/A |
| 5'0″-5'3″ | 152-160 cm | 26″-29″ | 66-74 cm | Small | Small | Small | N/A |
| 5'2″-5'7″ | 157-170 cm | 27″-30″ | 69-76 cm | Small, Medium | Small, Medium | Small, Medium | Medium |
| 5'6″-5'10" | 168-178 cm | 29″-31″ | 74-79 cm | Medium | Medium | Medium | Medium |
| 5'9″-6'0″ | 175-183 cm | 30″-33″ | 76-84 cm | Medium, Large | Medium, Large | Medium, Large | Medium, Large |
| 5'11"-6'2″ | 180-188 cm | 32″-35″ | 81-89 cm | Large, XL | Large, XL | Large, XL | Large, XL |
| 6'1″-6'5″ | 185-196 cm | 33″-36″ | 84-91 cm | Large, XL | Large, XL | Large, XL | Large, XL |